46 min ago
Japan Medical Association fears medical system will collapse if Covid-19 surge continues
From CNN's Chie Kobayashi, Arthur Syin and Chandler Thornton
The Japan Medical Association, the country's largest association of doctors, issued an emergency request to Japan's capital to enhance urgency surrounding the Covid-19 surge.
The head of the association, Toshio Nakagawa, called on people to work remotely and complete vaccinations for people aged between 40 and 64, in a televised address on Thursday.
"We think the medical system will collapse, if this spread of infection continues," Nakagawa said, adding that medical workers are feeling the strain of the spike in cases.
"We have to take all the measures to avoid the explosion of infection and medical system goes under strain," Nakagawa added. 
"As a person who is engaged in medicine, we'd like to issue our emergency statement to the government.
"We hope this will be reflected in the future measurement."
The association also urged the government to make more vaccines available to the public.
Tokyo reported a record number of new cases Thursday for the third consecutive day, adding 3,865 new cases. Nationwide, Japan reported 10,385 new cases — the first time the country has topped 10,000 new cases since the pandemic began.
This comes as the Games continues full steam ahead, nearing the end of its sixth day of official competition. Tokyo 2020 has reported 198 cases linked to the Games so far.
1 hr 52 min ago
How Caeleb Dressel prepared for the Olympics during a pandemic
From CNN's Coy Wire and Matias Grez
US swimming superstar Caeleb Dressel has already won two gold medals at Tokyo 2020 — and he's aiming for five more.
As with every athlete competing at these Olympic Games, Dressel's preparation was derailed last year by the coronavirus pandemic.
Many of us around the world struggled to find motivation, fight boredom and avoid unhealthy food binges during lockdown … and Dressel was no different.
For somebody with a sweet tooth — Dressel says his dream cheat meal is scoffing an entire family pack of Oreos — it was particularly difficult sharing a house with an excellent baker!
His trainer tailored his workout plans to ensure the 24-year-old didn't burn out during the additional year of Olympic preparation — and it's clearly been working.
You can watch some of those unusual training sessions in the video above … including the unconventional workout of Dressel bailing water.
2 hr 4 min ago
Team Great Britain's headquarters in Tokyo may have some of the strictest Covid-19 measures
From CNN's Bex Wright
CNN visited Team Great Britain's headquarters in Tokyo and found some of the strictest Covid-19 safety measures in place, which go well beyond Tokyo 2020 and International Olympic Committee guidelines.
The team has taken over an elementary school along the waterfront overlooking Tokyo Bay for athlete training and medical services. They have emblazoned the Union Jack design over the walls of the four-story building, and even have a rooftop garden with Union Jack deck chairs for the athletes to relax.
There is almost a blanket ban on in-person interviews until after the athletes have completed all of their events.
This is partly for preventing a potential infection, which could force athletes to drop out of the Games. The other reason for this is so the athletes can stay mentally focused.
To access the waterside complex, the CNN team went through a rigorous testing process.
Members of the media team took a rapid antigen test, also known as a lateral flow test, which give results within 15 minutes. The tests are not as accurate as PCR tests, but provide a quick indication of positive cases.
The test is self-administered, guided by a member of the Team GB contingent. The media personnel has to swab their own throat and nostrils with a long cotton swab, which is then dropped into a fluid solution in a tube. That solution is then dropped onto a small plastic testing device. After 15 minutes the results appear, showing one line for negative or two lines for positive — similar to a pregnancy test.
After the CNN team tested negative, it was allowed to continue to the fourth-floor rooftop, where media teams are lined up to speak to their medal-winning athletes. Interviews are conducted in the outdoor rooftop space, with the reporter and athlete standing two meters apart, maintaining social distance.
The interaction lasts under 10 minutes, a sign that even though Covid-19 cases are going up rapidly at home in the UK, the team on the ground in Tokyo is taking every precaution.
3 hr 2 min ago
World record holder Armand Duplantis "shocked" after rival is ruled out of Olympics
From CNN's Aleks Klosok
Sweden's world record pole vaulter Armand Duplantis said on Thursday that he was "shocked" to learn of Sam Kendricks' positive Covid-19 test which has ruled the American out of Tokyo 2020.
"It's just very scary," Duplantis told reporters at a press conference at the Olympic Village.
"As far as an hour ago, I was still preparing myself for a big battle with Sam (Kendricks). He's one of my main rivals, and somebody who was definitely going to push me in the final.
"I'm kind of shocked […] It still feels like somehow, someway he's (Sam Kendricks) going to be able to compete, but you know this is not looking good for him. It's hard to explain the feeling."
The Swede confirmed that he hadn't had any contact with Kendricks and would be taking extra precautions before the men's pole vault competition begins on Saturday.
"I'll just try to not go out of the way and do anything that's unnecessary (or might put) me at higher risk of catching Covid," Duplantis said.
Kendricks won bronze at the Rio Olympics and was the 2017 and 2019 world champion in the event.
3 hr 14 min ago
Mental health and severe heat are two big issues at Tokyo 2020. The IOC just spoke about both
From CNN's Gawon Bae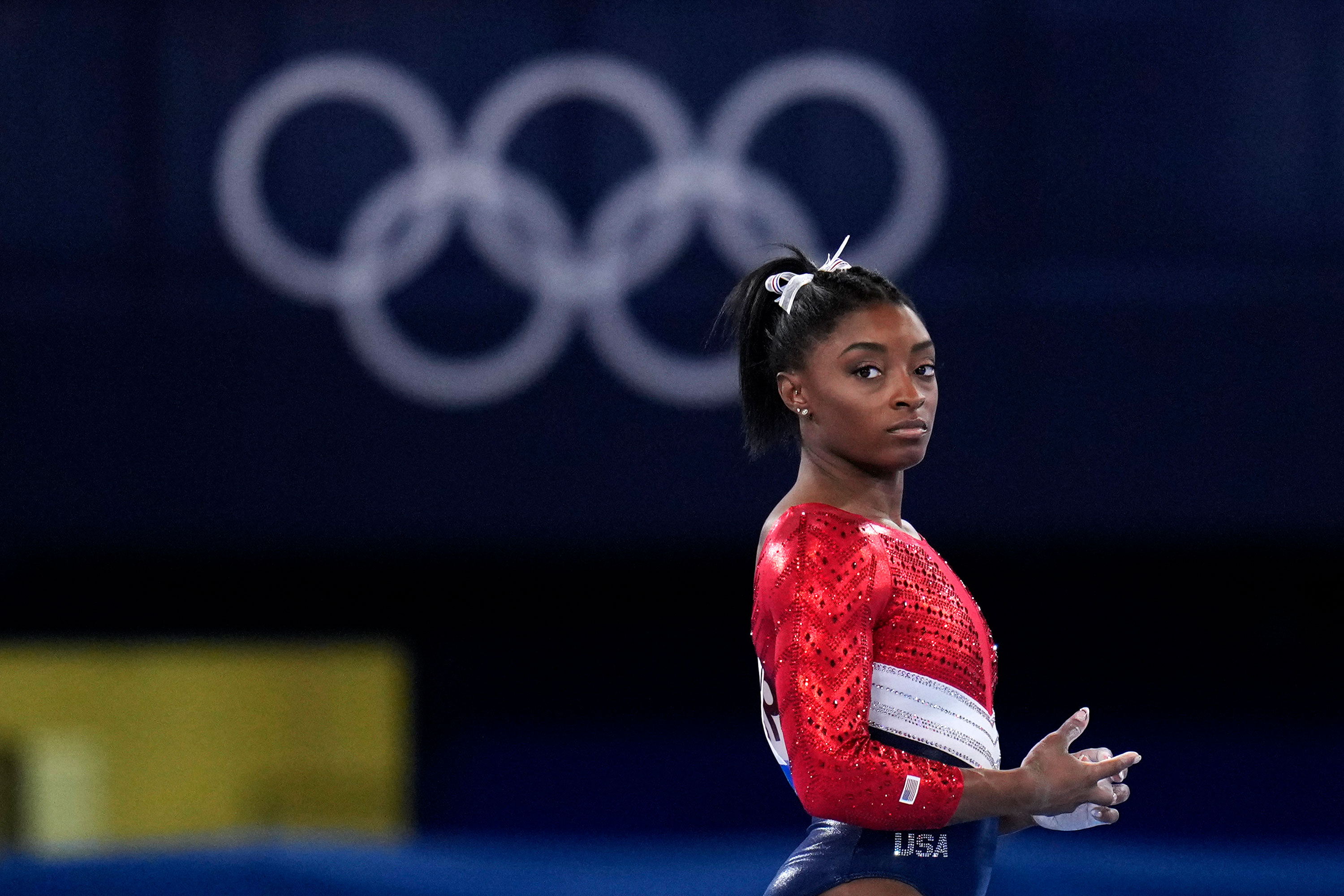 The pressure of competing in the Olympics and Tokyo's severe heat have been impacting athletes' mental and physical health at the Summer Games, and the International Olympic Committee (IOC) says it is working on both those fronts.
The IOC said it offers a 24-hour hotline available in 70 languages, a "safeguarding officer" within Tokyo's Olympic Village and six free counseling sessions for athletes.
"I think we can always, as individuals and as representatives, we can always do more, and that's what the Commission is working on. We've got to consistently stay engaged with all of our athlete representatives," IOC mental health support chair Kirsty Coventry said in a Tokyo 2020 daily press briefing Thursday.
This comes after US gymnast Simone Biles withdrew from the individual all-around competition to focus on her mental health, putting a spotlight on the issue.
Biles acknowledged the "outpouring love & support" she's received since announcing she would not compete in the women's individual all-around competition at the Tokyo Olympics to focus on her well-being.
"[T]he outpouring love & support I've received has made me realize I'm more than my accomplishments and gymnastics which I never truly believed before," Biles tweeted.
It remains unclear if the six-time Olympic medalist will compete in other events.
Tokyo heat: The committee is also working to prevent heat illnesses, particularly heat stroke, during the Games, Tokyo 2020's medical and scientific director Richard Budgett said.
Budgett pointed to provisions such as changed formats, giving 10-minute cool-down breaks and stopping the match when the temperature rises over 32 degrees Celsius (89.6 degrees Fahrenheit), saying the committee has been "very well prepared" for the heat situation, particularly for tennis events.
Additionally, the committee has been working with local experts to prevent heat stroke as the athletes push themselves, he said.
It was so hot on the tennis courts in Tokyo on Wednesday, that Russian Olympic Committee's Daniil Medvedev asked what would happen if he died during the match. Separately, Spain's Paula Badosa was forced to retire from her quarterfinal match due to heatstroke.
3 hr 19 min ago
The sound of Tokyo 2020 is mostly cicadas
From CNN's George Ramsay in Tokyo
What's the soundtrack of an Olympics without the shouting and cheering of spectators? Cicadas, mostly.
With Tokyo under a state of emergency throughout the Games, fans have been barred from attending venues in the Japanese capital.
Some events have a good atmosphere as coaches, officials, and non-competing athletes are permitted to watch — socially-distanced — from the stands, while others have been eerily quiet.
At times, it's even possible to hear a constant rattle of cicadas from the trees and bushes around venues.
In Japan, the noisy bugs have been called "the sound of the summer," and perhaps that's more true than ever against the backdrop of an Olympics without fans.
The cicadas, about an inch or an inch-and-half in length, also provide entertainment for kids, who run around trying to catch them in nets.
Here's a snapshot of what they sound like:
3 hr 21 min ago
Tokyo sees third consecutive day of record Covid-19 cases
From CNN's Arthur Syin in Tokyo
Tokyo has reported a record number of new Covid-19 cases for the third consecutive day amid the 2020 Olympic Games, according to the Tokyo Metropolitan Government.
Japan's capital reported 3,865 new cases Thursday, topping Wednesday's record when it added 3,177 new cases.
At least 198 Covid-19 cases have been reported as linked to the Tokyo Games as of Thursday, according to Olympic organizers.
Tokyo is currently under a state of emergency in effect until August 22. 
On Thursday, local media reported that three prefectures neighboring Tokyo — Chiba, Kanagawa and Saitama — will ask the Japanese government to add them to areas under the Covid-19 state of emergency after the recent surge in the number of coronavirus cases, citing Chiba Governor Toshihito Kumagai.
Tokyo public health expert Kenji Shibuya told CNN on Thursday the rise in cases could raise concern for the Olympic bubble. 
"Tokyo is using its own severity scale which masks the true magnitude of the problem — and obviously the more transmission outside, the more opportunity for those within the bubble will get infected, vice versa as it has already burst," Shibuya said.
3 hr 40 min ago
"Every time I look at the tickets, I cry." This Japanese superfan spent $40,000 on Olympics tickets
From CNN's Rebecca Wright and Will Ripley
Kazunori Takishima's love for the Olympics started in 2005 when he saw a figure skating competition for the first time, and immediately, he bought tickets for the 2006 Torino Winter Olympics in Italy. He was hooked. Since then, he has been traveling the world to support Japan at every Olympic Games for the past 15 years. So it was a dream to see the event in his home city of Tokyo.
But when a ban on spectators was announced due to the Covid-19 situation in Japan, that dream was over.
He had spent nearly $40,000 on 197 tickets — for him and his friends — to cram in as many events as possible during Tokyo 2020.
"It took an unbelievable amount of time, effort, and passion," Takishima told CNN. "But I was so passionate about the Olympics that even though it was very difficult and challenging, I enjoyed the process of buying the tickets."
The 45-year-old real estate businessman worked out that if he watched all the events he had booked, he would have broken the Guinness World Record for attendance at Olympic events. He'll now get a refund on the tickets he's purchased.
"All I have now is sadness, and every time I look at the tickets, I cry," Takishima said. "I'm just sad."
Despite his disappointment, he says the experience won't put him off being an Olympic superfan.
"I will continue to visit and support the Olympics until the day I die," Takishima said. "While I'm still able to move, I plan to see all the Games from the opening to the closing (ceremonies). I can eventually beat the record."
Read the full story here.
Tom Booth, Dan Hodge, and Arthur Syin contributed to reporting
4 hr 11 min ago
A new medal ceremony tradition in the time of coronavirus
From CNN's Aditi Sangal
The International Olympic Committee wanted to put measures in place to prevent Covid-19 transmissions at the Tokyo 2020 Olympics.
So they created a contactless medal ceremony and asked athletes to put their medals on themselves — but some athletes are adding a twist to that rule to continue the longstanding tradition.
When winning teams go on the podium, athletes of each team put the medal on their teammate, a role that was originally played by dignitaries.
Tokyo organizers reported 198 cases linked to the Summer Games on Thursday.