Viral News
The Democrat is the first Black woman and first South Asian woman to take part in a general election presidential debate
1 min ago
Harris zeroes in on Trump's taxes and mystery debt
From CNN's Gregory Krieg
The question: Do voters deserve a clearer picture of the presidential candidates' health?
Kamala Harris' answer: If you want to discuss transparency, let's talk about Trump's taxes.
If the presidential debate last week was a departure from historical norms, the vice presidential debate tonight is a return to them – neither candidate is engaging with tricky questions and both are turning to pre-planned talking points.
Harris, though, has a sharp one here. Calling on The New York Times' reporting on Trump's tax record, she zeroed in on the $400 million in debt he is believed to owe to unknown business partners or creditors.
"Just so everyone is clear, when we say in debt, it means you owe money to somebody. It would be really good to know who the president of the United States, the commander-in-chief, owes money to," Harris said. "Because the American people have a right to know what is influencing the President's decisions. And is he making those decisions on the best interests of the American people, of you, or self-interest?"
Harris did return to Biden, though not his health, citing his openness about his finances – a stark contrast with Trump.
"Joe has been incredibly transparent, over many, many years. The one thing we all know about Joe, he puts it all out there. He is honest, he's forthright," she said. "But Donald Trump has been about covering up everything."
2 min ago
Here's how Biden's and Harris' positions on climate change compare
From CNN's Gregory Krieg
Joe Biden and Kamala Harris were mostly aligned on climate questions, though the California senator – in part because of her office – offered more concrete support for the Green New Deal's blueprint. She signed on to a resolution written by Massachusetts Sen. Ed Markey and New York Rep. Alexandria Ocasio-Cortez in 2019. 
When challenged by Trump in their debate last week, Biden said he opposed the Green New Deal. And while it's true he hasn't embraced it, his climate plan has been (cautiously) applauded by leading environmental groups. 
"Biden believes the Green New Deal is a crucial framework for meeting the climate challenges we face," according to his campaign website, which touts his plan as a "Clean Energy Revolution."
Both Harris and Biden support re-entering the Paris climate agreement, ending fossil fuel extraction on public land and putting a price on carbon emissions as part of broader policy visions.
But they differed somewhat, during the primary, on fracking.
Harris said she wanted to ban the practice, beginning on federal land. 
Biden has said he wants to limit it, but rejects a ban in favor of stopping new or additional fracking on federal land. 
"I am not banning fracking. Let me say that again: I am not banning fracking," Biden said at a speech in Pittsburgh this summer. "No matter how many times Donald Trump lies about me."
2 min ago
Here's who has talked the most so far
We're tracking approximate speaking times for the candidates during tonight's debate. In the first 30 minutes, Sen. Harris leads with more than 13.5 minutes, leading Vice President Pence by almost a minute and a half.
1 min ago
Harris and Pence both dodge question about Biden and Trump's age 
From CNN's Kate Sullivan
Sen. Kamala Harris and Vice President Mike Pence both dodged a question at Wednesday's debate about whether they had discussed "safeguards or procedures" with Joe Biden or Donald Trump "when it comes to presidential disability."
Debate moderator Susan Page of USA Today noted, "One of you will make history on January 20, you will be the vice president to the oldest president the United States has ever had."
Page continued, "Donald Trump will be 74 years old on Inauguration Day. Joe Biden will be 78 years old. That already has raised concerns among some voters, concerns that have been sharpened by President Trump's hospitalization in recent days. Vice President Pence, have you had a conversation or reached an agreement with President Trump about safeguards or procedures when it comes to presidential disability? And if not, do you think you should?"
Pence did not answer the question, and instead pivoted to criticizing Harris for saying she would not trust Donald Trump's word when it came to a vaccine. Harris said during the debate she would trust the scientists and public health experts when it comes to a potential vaccine, but not solely Trump. 
When the question was posed to her, Harris did not answer the question, either. She instead spoke about her record and the barriers she has broken throughout her career — the first woman of color and Black woman to be elected Attorney General of California, the second Black woman to be elected to the US Senate, and now the first Black and South Asian woman to be a major party vice presidential nominee. 
4 min ago
Pence tells Harris to "stop playing politics" with lives
Analysis from CNN's Kevin Liptak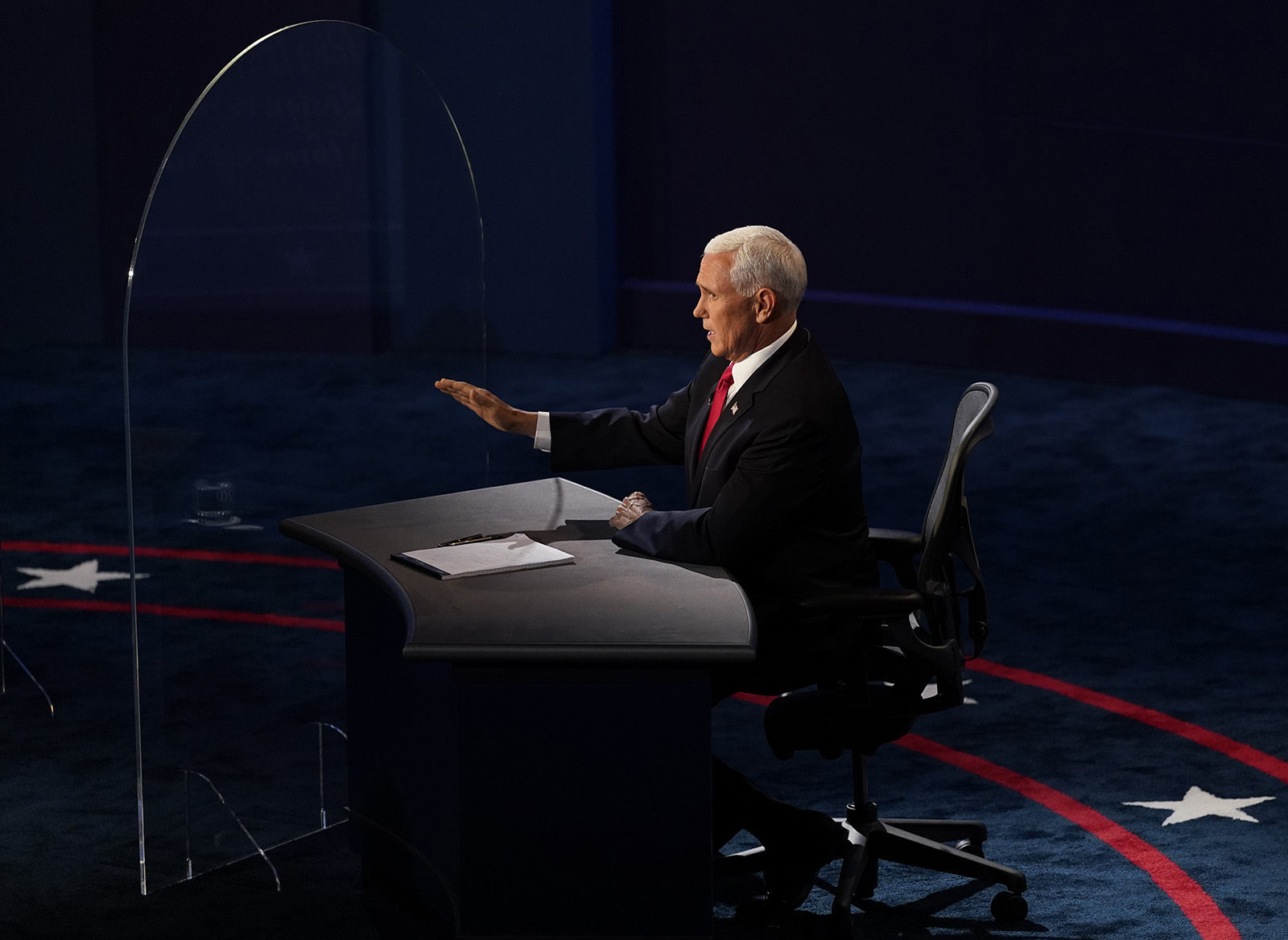 "Stop playing politics with people's lives" is a phrase you would probably expect during a debate this year — just not coming from someone working for President Trump.
Nevertheless, Vice President Mike Pence made the accusation, saying Sen. Kamala Harris was undermining confidence in an eventual coronavirus vaccine by saying she wouldn't take it unless it was endorsed by public health experts.
"The fact that you continue to undermine public confidence in a vaccine, if a vaccine emerges during the Trump Administration, I think is unconscionable," Pence said. "Senator, I just ask you, stop playing politics with people's lives."
His attack seemed to ignore the repeated efforts by Trump to explicitly insert politics into the pandemic, including efforts to develop a vaccine.
Just hours earlier, Trump made explicit acknowledgment that vaccine development was being influenced by politics, bemoaning rules that make it unlikely a vaccine will be approved by Election Day. And CNN reported on Tuesday that Trump has phoned vaccine makers to press them to work quicker on a vaccine — preferably before Nov. 3.
4 min ago
Pence defends packed Rose Garden event: Trump administration trusts Americans
From CNN's Betsy Klein:
Vice President Mike Pence defended the administration's decision to hold a packed event in the White House Rose Garden 11 days ago amid a global pandemic, days before the President, first lady, and multiple attendees tested positive for Covid-19. 
Pence framed his response through the lens of personal freedom as he answered a question from vice presidential debate moderator Susan Page about the event, that, Page suggested, "seems to have been a super spreader event," and how the administration could expect Americans to follow safety guidelines when they did not follow them themselves.
There was no social distancing in the Rose Garden. Very few attendees wore masks. At least 12 people have since tested positive. 
"The American people have demonstrated over the last eight months — they've been given the facts, they're willing to put the health of their families and their neighbors and people they don't even know first. President Trump and I have great confidence in the American people and their ability to take that information and put it into practice," Pence said. 
Pence further defended the decision to hold the event. 
"The reality is, the work of the President of the United States goes on. A vacancy in the Supreme Court of the United States has come upon us and the president introduced Judge Amy Coney Barrett," he said. 
He dismissed questions that the event could have been a "super spreader" as "a great deal of speculation, and noted that "many," though not all, people at the event "actually were tested for coronavirus."
He also highlighted that the event was outside, "Which all of our scientists regularly routinely advise." However, before guests headed to the Rose Garden, some attended gatherings inside the White House reception rooms where social distancing was not practiced — including with hugs and handshakes.
"The difference here is President Trump and I trust the American people to make choices in the best interest of their health," he said, pivoting to criticize Democratic nominee Joe Biden and vice presidential candidate for "consistently" talking about mandates.
Here's who has tested positive and negative for Covid-19 in Trump's circle
11 min ago
Here's what the Green New Deal actually says
From CNN's Zachary B. Wolf
Green New Deal fits perfectly on a bumper sticker.
But the proposal isn't a simple fix for what ails the US. It would equal taking American society back to the drawing board and rebuilding it from the safety net up.
As written, it is more a list of ideas and ideals than an actual proposal, although the new climate change regulations it suggests could run to $1 trillion.
What was entered as official legislative language on Capitol Hill declares the government should take a stronger position on everything from cutting carbon emissions to giving every American a job to working with family farmers to retrofitting every building in the country.
2 min ago
Harris on a vaccine: "If Donald Trump tells us to take it, I'm not taking it"
From CNN's Dan Merica
Kamala Harris directly said on Wednesday that if there is a coronavirus vaccine available during Donald Trump's administration that is not embraced by scientific advisers but pushed by the President, she will not take it.
But if the scientific advisers like Dr. Anthony Fauci back the vaccine, she would.
"If Dr. Fauci, if the doctors tell us that we should take it, I'll be the first in line to take it. Absolutely," Harris said. "But if Donald Trump tells us to take it, I'm not taking it."
The Trump campaign has slammed Harris during the campaign for questioning a vaccine approved by Trump.
Harris, echoing her answer tonight, told CNN earlier this year that she would not outright trust a vaccine unless it came from a "credible" source.
Vice President Mike Pence jumped on those past comments tonight.
"Your continuous undermining of confidence in a vaccine is unacceptable," Pence said.
Watch the exchange:
16 min ago
Americans have sacrificed too much due to the "incompetence of this administration," Harris says
Sen. Kamala Harris, the Democratic nominee for vice president, took umbrage with how President Trump and his administration responded to the coronavirus pandemic, saying people needed information they may "not want people to hear, but they need to hear so they can protect themselves."
"Let's talk about respecting the American people. You respect the American people when you tell them the truth. You respect the American people when you have the courage to be a leader, speaking of those things you may not want people to hear, but they need to hear so they can protect themselves. But this administration stood on information that if you had as a parent or a worker, if you didn't have enough money saved up, you're standing in a food line because of the ineptitude," Harris said. "They've had to sacrifice far too much because of the incompetence of this administration."
Watch the moment: